Travel Planner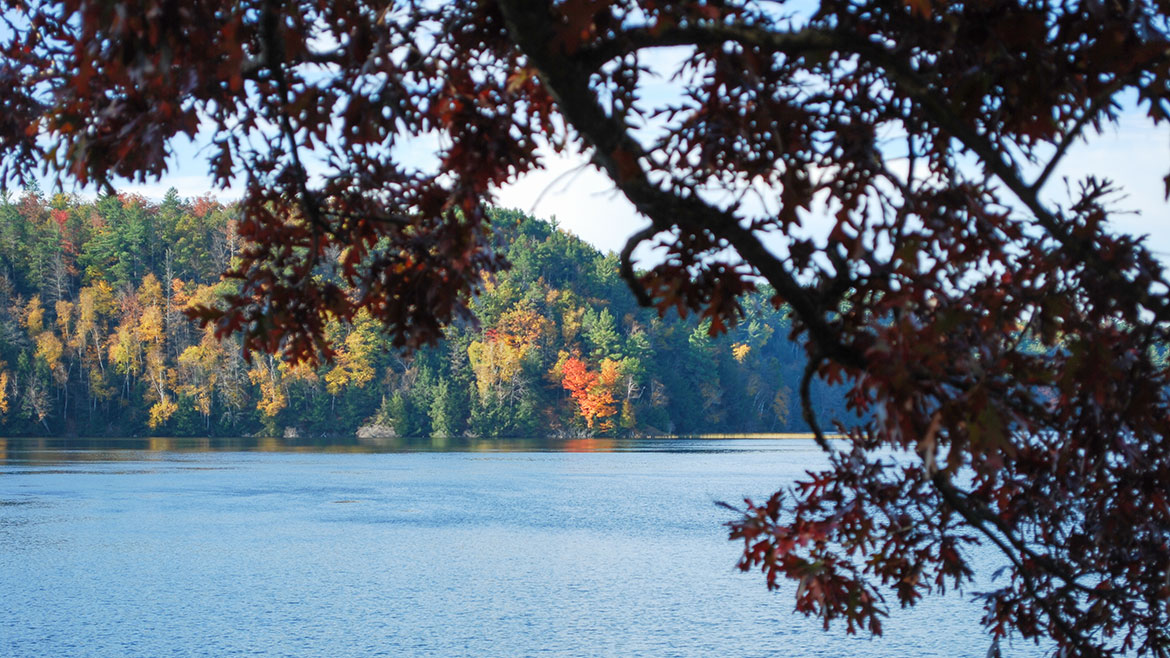 "Autumn Splendor"
Episode #1512 Travel planner
We will take a color tour by paddle boat, a canoe trip in the cool clean air, see incredible overlooks with trees so beautiful they look like a master artist painted them, and we top it off with a hike on a National Forest trail.
Sunrise Side Coastal Highway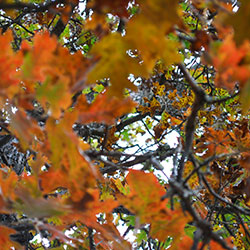 Location: US-23 along east coast of Michigan's lower peninsula
The Sunrise Side Coastal Highway (US-23), stretches 200-miles along the Lake Huron shoreline from Standish to Mackinaw City, providing travelers with unlimited opportunities for exploring the natural wonders of the region, along with its rich history, culture and recreation.
Corsair Hiking Trail
Location: about 7 miles northwest of East Tawas on Monument Road
Parking: The Corsair Picnic Area on the west side of Monument Road; the Wrights Lake lot located on Tuttle Road; the Silver Valley Lot on the east side of Monument Road
Season: Open year-round
Total Trail Length: 28.3 miles
Near Tawas City, the Corsair Ski Trails are nestled in the beautiful Silver Valley area, surrounded by the 120,000 acre Huron National Forest. The Corsair system is one of the largest groomed trail networks in Michigan. The 56 kilometers of interconnecting trails cross forest and meadows, hills and valleys. They take you through sunny open vistas, into hushed stands of sweet-smelling fir and towering hardwoods, and along the edge of winding ice-locked streams. Corsair Trails is the site of the Silver Creek Challenge, a citizen race held the last Saturday of each January. The Corsair Trail Council operates and maintains the Corsair Skiing and Hiking Trail and the Highbanks Trails (both are located in the Huron National Forest).
Iargo Springs
Location: Iargo Springs Interpretive Site (GPS 44.44133, -83.67587)
Hours: Open year round
Contact: Huron Shores Ranger Station (989) 739-0728
Located on the River Road Scenic Byway, this site, considered a holy place by native Americans, offers a breathtaking view of the AuSable River Valley from a 30' high observation deck. For the adventurous, walk down 294 steps and enter a mystical place where underground springs come together and form cold water streams. Walk along the elevated boardwalk and enjoy the serenity.
Canoeing the AuSable
Location: AuSable River
Paddlers enjoy the calm, but swift paddling of the river and the lake-like atmosphere below the impoundments. Canoeing the AuSable River is a family tradition that you and your kids will always remember. Older teenagers, college students and adults enjoy heading down the AuSable in any combination of inner tubes, canoes and kayaks.
Lumberman's Monument
Location: 5401 Monument Road - Oscoda, MI (44.43592, -83.62381)
Hours: Grounds open year-round. Visitor Center open May to October daily, including weekends, from 10am to 5pm.
Contact: Lumberman's Monument Visitor Center (989) 362-8961
Lumberman's Monument Visitor Center interprets the area's colorful lumbering past. The 14-foot Lumberman's Monument stands on a high bank with the Au Sable River providing a scenic backdrop. Learn about the industry that helped develop northern Michigan and the men who cut the timber that helped build a nation. Climb through a log jam, use a peavey, cut a wooden cookie with a cross-cut saw, and learn about the life of a lumberjack through video and displays. Hike the stairway down to the wanigan, a loggers floating kitchen, or take the short trail to the dune observation deck. Enjoy a Kid's Day program or take a guided nature hike.
AuSable River Queen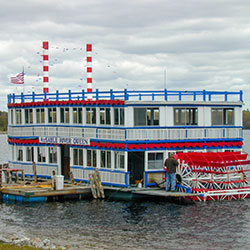 Location: 1775 West River Road - Oscoda, MI
Phone: (989) 739-7351
The Au Sable River Queen is a top attraction and the only paddlewheel river boat operating in northern Michigan. Two-hour excursions offer a view of wildlife and beautiful scenery and you can relax as the captain narrates this area's colorful history. It is a popular fall color destination, requiring reservations for weekend trips. The Au Sable River Queen is accessible with a heated lower deck, snack bar, and onboard restroom facilities. It accommodates tour bus groups and can be reserved for wedding receptions or other special occasions.
Eagle's Nest Overlook
Location: Foote Dam Pond Overlook: 44.45131, -83.51624 (also called Eagle's Nest Overlook)
Hours: Open year round
Contact: Huron Shores Ranger Station (989) 739-0728
The Eagle's Nest Overlook is one of the most famous overlooks on the Huron National Forest. The Nest is just west of the visitor center and has been used by a pair of bald eagles since about 1985. Rare is the fall day that you do not see eagles soaring over Cooke Pond. The view into the nest is better if you remember to bring binoculars of at least six power. Accessible parking is available. The path to the observation area is paved and over 36' wide. The observation deck is paved.
Hoist Lake Foot Travel Area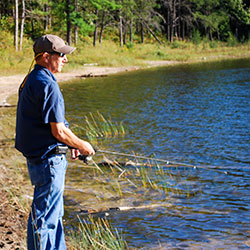 Location: Latitude: 44.655249, Longitude: -83.837975
Hoist Lake foot travel area encompasses almost 10,000 acres of pine, aspen and hardwood forest. There are 19 miles of looped trail. Hiking trails and back-country skiing are permitted; however, there are no groomed trails. Hiking ranges from moderate to more difficult/most difficult. Hunting and fishing are permitted in season.