Travel Planner
"Great Lakes Bay Trails"
Episode #1605 Travel planner
As Michigan continues to build and promote trails for Hiking, Biking and Fun, this area brings some of the newest for your enjoyment.
Bay City Area Riverwalk / Railtrail
Location: Bay City, Michigan
Bigelow Park: Evergreen Drive (North End of Middleground Island)
Veterans Memorial Park: 301 John F. Kennedy Drive - Bay City
Bay City Rowing Club: 350 West LaFayette Avenue - Bay City
The Bay County Riverwalk/Railtrail System shows community at its best, offering plenty of sights, sounds and activities along its route through Bay City and its parks, and through the residential and agricultural areas of Portsmouth, Hampton and Bangor townships. There are dozens of places to access and jump off the trail, and each one offers convenient parking and facilities, as well as clear signs to help you navigate the route.
Bay City State Park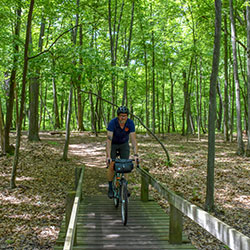 Location: 3582 State Park Drive - Bay City MI
Bay City State Park, situated on the shores of the Saginaw Bay, is home to one of the largest remaining freshwater, coastal wetlands on the Great Lakes, the Tobico Marsh. More than a thousand feet of sandy beach and over 2,000 acres of wetland woods, wet meadows, cattail marshlands and oak savannah prairies make it an ideal staging area for migratory birds. The park has long been known for its outstanding variety of bird life and as a haven for wetland wildlife and plants.
Andersen Trail takes visitors through the marsh. The first two miles of paved, barrier-free trail meander through this wildlife haven where the telltale signs of waterfowl, herons, turtles, otters, marsh wrens and beavers are readily visible. The trail then connects to an unpaved four-mile loop that winds through a wooded wetland and features two 60-foot observation towers. Chickadee Nature Trail is a short, half-mile paved accessible trail that threads its way through a remnant oak-savannah prairie. Colorful trailside displays contain recorded messages that help visitors explore this fragile habitat where birds, butterflies and blossoms abound. The trail was made possible by the Bay City Garden Club. Lagoon Nature Trail explores wooded wetlands, forested beaches and open shoreline habitat. This one-mile, hard-surfaced trail circles the lagoon and meanders along the shores of the bay. The first section, which is universally accessible, leads to a shoreline boardwalk that offers several panoramic views of the bay. The trail also features shoreline spotting scopes, and accessible picnicking sites and fishing pier
Saginaw Valley Rail Trail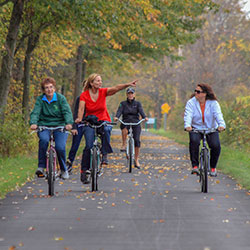 Access Points:
6225 Stroebel Road - Saginaw MI
2998 Van Wormer Road - Saginaw MI
401 E Water Street - St Charles MI
The Saginaw Valley Rail Trail is one of Saginaw Counties gems, stretching 11 miles from St. Charles to Saginaw. It incorporates a number of natural features including: seven bridges over various rivers and creeks, The Shiawassee State Game Area and many wetland areas. The Rail Trail also offers an equestrian trail, trail shelters, restroom facilities at the Van Wormer parking lot, viewing platforms and benches.
Ringwood Forest
Location: Ring Road (1.5 miles west of M-52) - St Charles MI
Ringwood Forest is the most ruggedly beautiful of all of our parks. The 160 acres include some of Michigan's oldest forest plantations. The park has three miles of trails for nature lovers, hikers and cross country skiers. Beautiful towering pine forests, hilly terrain, fishing access and canoe launch on the Bad River. The parks also houses a pavilion available on a first come first serve basis along with a playground and pit toilets.
Shiawassee National Wildlife Refuge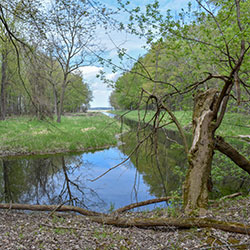 Location: 6975 Mower Road - Saginaw MI
Shiawassee National Wildlife Refuge is provides a habitat for migratory waterfowl. Known locally as the "Shiawassee Flats," the refuge lies in the Saginaw Bay watershed, historically one of the largest and most productive wetland ecosystems in Michigan. Four rivers converge on the refuge - the Tittabawassee, Flint, Cass, and Shiawassee. The refuge offers several trail systems that highlight the unique features of the area. Trails are open year round, seven days a week, during daylight hours except for days during hunting periods. The Woodland Trail, located off of Center and Stroebel Roads on the north side of the refuge, offers over 4.5 miles of trails. The Ferguson Bayou Trail, located at the west end of Curtis Road on the south side of the refuge, offers over 4.5 miles of trails. The Wildlife Drive (Auto Tour Route) meanders past forests, grasslands, marshes, open water pools, and the Shiawassee River.
Pere Marquette Rail Trail
Location: 220 West Ellsworth Street - Midland MI
A fun, healthy and educational way to explore the Midland area is to follow the Pere Marquette Rail-Trail of Mid-Michigan. The trail is a 30-mile-long, 14-foot wide ribbon of asphalt tracing a former railroad right of way. The handicap-accessible trail is for non-motorized activities, including walking, jogging, in-line skating, bicycling and cross-country skiing. Extending northwest from Midland to the city of Clare, the trail provides access to city and county parks, as well as historical and natural areas. Parking is available next to the trail in the downtown areas of Midland, Sanford, Coleman and Clare.
Midland City Forest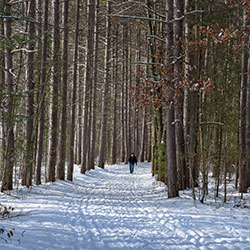 Location: 2840 East Monroe Road - Midland MI
Midland City Forest is owned and operated by the City of Midland Parks and Recreation Department. At 520 acres, City Forest is Midland's largest park and is perfect for year-round outdoor activities. There is no charge to enter the park at any time. In the months without snow, City Forest is a mecca for bikers, runners, hikers and outdoor enthusiasts. There are two trail systems within the forest. In the winter months, City Forest is transformed into a winter recreation park complete with sledding, ice skating, tobogganing, cross country skiing and snowshoeing.
Whiting Forest of Dow Gardens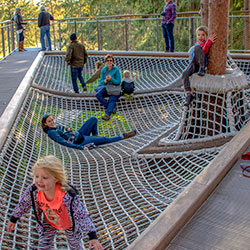 Location: 2203 Eastman Avenue - Midland MI
Whiting Forest of Dow Gardens features 54 acres of woodlands, ponds, apple orchard, meadows and stream. Guests of all ages and abilities are immersed in the forest on the nation's longest canopy walk, 1,400 feet long, soaring up to 40 feet above the ground. The Alden B. Dow-designed Whiting home now welcomes guests as a Visitor Center. Other features include a playground, apple orchard, Whiting Forest Cafe, restoration of Snake Creek, and two pedestrian bridges.