Travel Planner
"Huron Shores Circle Tour"
Episode #1701 Travel planner
Our tour starts on the beautiful beach in Tawas then heads north to Sturgeon Point Light, back east to Reid Lake Foot Travel area and over to River Road Scenic Byway before ending at the Negwegon State Park. There are so many stops along the way that you will need to watch to enjoy them all.
Huron Shores Waterways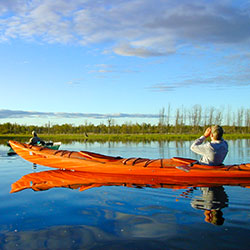 WHIRLPOOL ANGLER ACCESS
Location: GPS 44.432357, -83.390963
Hours: Managed April - November
Contact: Huron Shores Ranger Station (989) 739-0728
Whirlpool provides launching access for small fishing boats and canoes on the Lower Au Sable. For those travelers that don't want to negotiate steep banks or don't have a boat to get out onto the water an accessible boardwalk leads to a hardened fishing access area. This portion of the Au Sable lies below the last dam and looks very much like a natural river making it a choice stretch to canoe. Salmon and steelhead trout fishing is very popular during the spring and fall spawning migration. Signs tell the story of the lake sturgeon, a protected species in Michigan.
LAKE HURON SHORELINE & BEACHES
Location: Harrisville, MI
The Lake Huron beaches in and around Harrisville (including two state parks) have been recognized as being among the "top ten in Michigan." "Old-fashioned lake vacations abound on this pretty stretch of Lake Huron."
CANOEING THE AUSABLE RIVER
Location: AuSable River
The AuSable River and inner lakes of the Oscoda area provide one of the most diverse and beautiful views in the world for canoeing and kayaking or just floating along on a tube and enjoying nature and its surrounding. High banks, endless forests, meadows covered with wildflowers, and wild animals such as Deer, and Bald Eagles, in their native environment allow for a quiet, peaceful, and relaxing getaway.
CLARK'S MARSH
Location: Forest Trail south of the airport, Oscoda, MI
Clark's Marsh is a collection of still woodland ponds and old growth forest. Its flat grassy trails make it a perfect place for visitors to view rare native wild flowers and many species of wild birds including the most productive Eagle's nest in the area.
TUTTLE MARSH WILDLIFE AREA
Directions: Tuttle Marsh Wildlife Area is located approximately 7 miles north of Tawas, and 6 miles southwest of Oscoda. From Oscoda, travel Old US-23 west 5 3/4 miles to Tuttle Marsh Road. Turn left into the Tuttle Marsh Wildlife Area.
A 400-acre impoundment is at the heart of this site, which is surrounded by hundreds more acres of seasonally flooded wetlands. Tuttle Marsh has no facilities or developments, but visitors are encouraged to use the wetland dike as a hiking trail.
River Road Scenic Byway
WESTGATE WELCOME CENTER
Location: M-65 8 miles north of Hale, MI - GPS 44.45601, -83.76687
Hours: Day use area, open daily 6am - 10pm
Phone: (989) 739-0728
There is a short, half hour walk on a limestone path to the Rollways Day Use area. Westgate features a kiosk that provides information on the Au Sable River and River Road National Scenic Byway. This is a great location to view the river and see fall color. Wildlife abounds and visitors will have many opportunities to see the varied bird life of the area, particularly trumpeter swans and eagles. Accessible parking is available. The path to the observation area is paved and over 36' wide. The observation deck has wood deck planking. Interpretive signage and restroom facilities are fully accessible.
CANOERS' MEMORIAL MONUMENT
Location: The site is located on the north side of River Road. Latitude 44.435824, Longitude -83.651616
Hours: Open year round
Contact: Huron Shores Ranger Station (989) 739-0728
Canoers' Memorial honors those that have paddled and those that continue to paddle these flowing waters. Access to Highbanks Trail during summer months is available at this site.
IARGO SPRINGS INTERPRETIVE SITE
Location: Iargo Springs Interpretive Site - GPS 44.44133, -83.67587
Hours: Open year round
Contact: Huron Shores Ranger Station (989) 739-0728
Lying off of River Road National Scenic Byway, Iargo Springs provides a panoramic view of the Au Sable River. Used as a drinking water source since pre-settlement times, dams were constructed on the springs by early loggers before the turn of the century. The dams were useful in diverting water to the logging camps nearby. The site was renovated in 1991. Steps were added and boardwalks along the springs, as well as the dams being rebuilt.
HIGHBANKS TRAIL
Location: 7 Mile trail located along the AuSable River. Directions from Grayling: Travel East on M-72 for 10 miles. Turn left and travel North into parking lot. Latitude 44.627315, Longitude -84.512476
Hours: Open year round.
The Highbanks Trail System is a scenic back-country linear trail system with views of the AuSable River Valley. From the high bluffs of the south shore of the AuSable River, many species of plants, animals and songbrids may be viewed in their natural setting. The trail system offers excellent opportunities to experience and enjoy nature.
LUMBERMAN'S MONUMENT
Location: Lumberman's Monument - GPS 44.43592, -83.62381
Hours: Grounds open year-round. Visitor Center open May to October daily, including weekends, from 10am to 5pm.
Contact: Huron Shores Ranger Station (989) 739-0728
Lumberman's Monument Visitor Center interprets the area's colorful lumbering past. The 14-foot Lumberman's Monument stands on a high bank with the Au Sable River providing a scenic backdrop. Learn about the industry that helped develop northern Michigan and the men who cut the timber that helped build a nation. Climb through a log jam, use a peavey, cut a wooden cookie with a cross-cut saw, and learn about the life of a lumberjack through video and displays.
AUSABLE RIVER QUEEN
Location: 1775 West River Road - Oscoda, Michigan 48750
Phone: To assure your trip, it is best to make reservations first. (989) 739-7351 - 10am - 5pm
Schedule: End of May - September, Trips leave at Noon. Trips at 3:30pm for some dates.
The glorious AuSable River Queen is a double-decker, authentic paddle wheel patriotically painted in Red, White and Blue! The River Queen has enjoyed 47 years of safe passage. Young and old alike are excited to ride the Queen and take in the beautiful scenery and wildlife. Bald Eagles that perch on the large trees along the rivers bank are a big hit! It is a beautiful trip in the Summer and even more brilliant with the turning of the leaves in the Fall. They are located on River Road between The Dam Store and Old Orchard Park, which is West of Oscoda. You can take regularly scheduled trips or charter it for your own trip for a wedding, family reunion, or just a great group of friends.
Huron Shores Trails
HARRISVILLE STATE PARK
Location: 248 State Park Rd - Harrisville, MI
Area: 107 acres
Phone: (989) 724-5126
Harrisville State Park features a campground and day-use area nestled in a stand of pine and cedar trees along the sandy shores of Lake Huron. The park is within walking distance of the resort town of Harrisville and it's many events and close to Sturgeon Point Light House.
NEGWEGON STATE PARK
Location: About 35 Miles North of Oscoda via US-23
Contact: Harrisville State Park (989) 724-5126
Hours: Open year round
Negwegon State Park is a rustic, undeveloped area open for hunting, walk-in camping and hiking. The terrain is a mixture of low land areas, with small ridges, to mature pine forest, with some hardwoods and aspen forest, with some pockets of open meadows mixed in. Negwegon hosts a beautiful undeveloped sandy beach on Lake Huron. Please use caution when visiting Negwegon as the roads into the park are often so sandy that a four-wheel drive vehicle is needed. Motorized vehicles are not allowed on the trails or off-road.
HOIST LAKE FOOT TRAVEL AREA
Location: From Oscoda head West on River Road for 19 Miles, turn right (North) on M-65 for 15 Miles. East Trailhead Parking Lot will be on the left.
Hours: Open year round
Contact: Huron Shores Ranger Station (989) 739-0728
Hoist Lake foot travel area encompasses almost 10,000 acres of pine, aspen and hardwood forest. There are 19 miles of looped trail. Hiking trails and back-country skiing are permitted; however, there are no groomed trails. Cross country skiing ranges from moderate to more difficult/most difficult due to length of trails. Hiking ranges from moderate to more difficult/most difficult. Hunting and fishing are permitted in season.
MICHIGAN SHORE-TO-SHORE RIDING / HIKING TRAIL
South Branch Trail Camp - Location: Rollway Road, Huron-Manistee National Forest - South Branch, MI 48761
Phone: (989) 739-0728
Operational Hours: Open 24 hours a day, 7 days a week unless otherwise posted. Forest quiet hours apply. Usually open May through Mid-November. Gated when closed.
The Shore-to-Shore Trail begins in Empire near Lake Michigan, on the west side of the state and ends at Lake Huron on the eastern side of the state. The trail passes under I-75, north of Grayling, and then continues eastward to follow the historic Au Sable River to its end in Au Sable, just south of Oscoda. The South Branch Trail Campground is adjacent to the South Branch River, near the Au Sable River Semi-Primitive Nonmotorized Area. If you are traveling west to east, the South Branch Trail Campground and the River Road Trail Campground are the last two campgrounds before reaching Lake Huron.
EAGLE RUN TRAILS
Directions: 6.8 Miles of Trails, from Oscoda travel West on River Rd. for 2.5 miles. The site is located on the right. Latitude 44.425669, Longitude -83.366232
Hours: Open year round
Contact: Huron Shores Ranger Station (989) 739-0728
This trail runs along the south shore of the Lower AuSable River. Eagle Run provides a loop trail system for hiking and cross-country skiing. Scenic views of the AuSable River and a quiet, remote setting allow visitors to experience nature first hand. The trails are maintained with the support of volunteers.
Huron Shores Points of Interest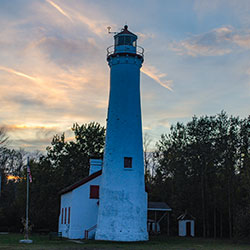 LAKEWOOD SHORES GOLF RESORT
Location: 7751 Cedar Lake Road, Oscoda, MI
Phone: (800) 882-2493
Lakewood Shores Resort brings together three unique golf experiences not found anywhere else in Northern Michigan - The Gailes, Blackshire and The Serradella.
MODERN CRAFT WINERY TASTING ROOM
Location: 250 S US-23 - Harrisville, MI 48740
Phone: (989) 724-3083
Hours: Monday-Saturday: Noon - 8 pm, Sunday: Noon - 6 pm Call for winter hours.
The second Modern Craft Winery tasting room is located in Harrisville, Michigan and was opened on June 01, 2012 by entrepreneurs Venita and Mark Larson. The inside décor is modeled after an old-time wine tasting room with dark vibrant colors, hand-hammered copper sink, wine bottle pendant lights and a hand rubbed, pine "tasting table" to enhance the experience of tasting Modern Craft Wines.
STURGEON POINT LIGHTHOUSE
Location: Take US 23 North approximately three miles out of Harrisville, turn right onto Lakeshore Drive and continue approximately one mile to Point Road. Turn east onto Point Road and continue approximately one mile to the gravel road on the left that enters the lighthouse parking area. It is a short walk further down this road to the lighthouse.
Phone: (989) 727-4703
Sturgeon Point State Park juts into Lake Huron, and waves off the Point conceal a long and shallow reef which extends for almost a full mile beyond the visible confines of the land. This undeveloped site offers parking for visitors interested in visiting the lighthouse and museum that rests on the property. The Alcona Historical Society is responsible for upkeep on the light that is owned by the US Coast Guard.
KIRTLAND WARBLER
Location: Jack Pines of the Huron National Forest
The endangered Kirtland's warbler is one of the rarest members of the wood warbler (Parulidae) family. It is a bird of unusual interest for many reasons. It nests in just a few counties in Michigan's northern Lower and Upper peninsulas, in Wisconsin and the province of Ontario and, currently, nowhere else on Earth.