Travel Planner
"Time To Go West"
Episode #1703 Travel planner
Ludington Michigan is one of those places that is bypassed by many a traveler on their way north. They don't know what they are missing and we will show you some surprises on today's show. We will travel up Michigan's western shore with stops at Lighthouses, Historic Museums and State Parks. Nothing but fun on this trip.
Waterfront Walkway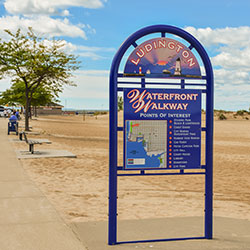 Location: Waterfront - Ludington, Michigan
This series of walking routes (4.58-mile Waterfront Loop, 1.5-mile Downtown Loop, and 1.42-mile Beach Loop) follows Ludington's waterfront via roads and sidewalks and can be done individually or combined. (A popular combo is the 2.75-mile Beach and Downtown Loops.) Sites include Waterfront Park, Pere Marquette Lake, U.S. Coast Guard Station, Port of Ludington Maritime Museum, and Stearns Park Beach, among others.
Stearns Park Beach is 2,500 feet of sandy shoreline, a grassy area with plenty of picnic tables and grills, a playground, skate park, mini-golf, volleyball and shuffleboard. A long, walkable pier juts out to the North Breakwater Light. Stearns Park is also a local favorite for watching the sunset over Lake Michigan.
Downtown Tour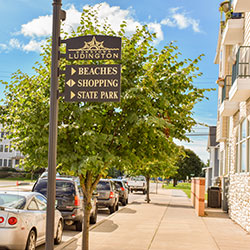 Location: Ludington, Michigan
Ludington is a port city that is home to specialty shops and art galleries. The downtown district runs along Ludington Avenue and down James Street and Rath Avenues, both which cross Ludington Avenue. Downtown is home to the famous House of Flavors Restaurant & Ice Cream Shop, as well as antiques shops, a natural-food store, a brew pub, clothing and music retailers, and arts and crafts shops. On Friday nights in downtown Ludington, you can enjoy the farmers' market in the North James Street Plaza. Don't forget about the Friday Night Live summer street parties happening the last two Friday evenings in July and the first two in August. These events are always fun and family friendly in downtown Ludington!
Big Sable Point Lighthouse
Ludington State Park
Location: 8800 West M-116 - Ludington, Michigan
Nestled among jack pines, just a quick two mile walk along a breathtaking trail, stands Big Sable's noble black and white tower. At over one hundred feet tall, this historic beacon is a huge attraction for its owner, Ludington State Park. The Big Sable Point Lighthouse features its original keepers' quarters, which is attached to the tower. The quarters provide housing for the lighthouse's summer volunteers, a gift shop, and a video room for visitors. Several different displays highlighting the history of the lighthouse are available for guests to enjoy. Visitors can also climb the 130 steps to the watchtower room, walk out on the catwalk, and witness spectacular views of the Ludington State Park and Lake Michigan.
Ludington State Park
Location: 8800 West M-116 - Ludington, Michigan
One of Michigan's most popular state parks, the Ludington State Park is comprised of nearly 5,300 acres of scenic sand dunes, ponds, marshlands and forests. It is situated between Hamlin Lake and Lake Michigan with several miles of shoreline and beaches on both bodies of water. Located within the Ludington State Park is the Big Sable Point Lighthouse and the Great Lakes Visitor Center.
North Breakwater Light
Location: Stearns Park Beach - Ludington, Michigan
Just down the shore from Big Sable stands the Ludington North Breakwater Light, another charge of SPLKA's and a partner with the City of Ludington. This 1924 light is also open for tours and tower climbs and boasts a vibrant green light from its tower. The Breakwater Light is at the end of a half mile walk down the pier, and is exquisite in its design. Volunteer Keepers are welcome at this light as well, and enjoy living accommodations just within Ludington State Park.
Historic White Pine Village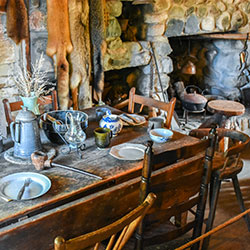 Location: 1687 South Lakeshore Drive - Ludington, Michigan
Historic White Pine Village offers a living-history, family-friendly, fun-filled tour of a late 19th – early 20th century pioneer village. The Village boasts 30 historic exhibit buildings, including the original 1849 Mason County Courthouse (on the State Register of Historic Places) and an authentic turn-of-the-century steam locomotive, tender car, and flat car loaded with logs and headed toward the Village's sawmill. Visitors come face-to-face with early settlers: first-person interpreters with scripts carefully prepared by staff and historians, they interact and improvise with visitors in the persona of historical characters and recreate actual personages from Mason County. The buildings contain thousands of authentic artifacts and archives depicting the rich lumbering and agricultural history of its area. Thousands of area school children, families, individual visitors, and residents tour the Village annually. Historic White Pine Village is open early May through October and takes around 2 hours to tour through.
Jamesport Brewing Company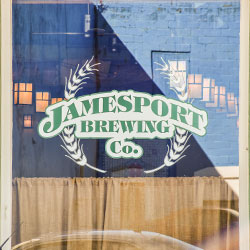 Location: 410 South James Street - Ludington, Michigan
Ludington's only brew pub where you will find great food and service in a friendly, casual atmosphere. Serving lunch, dinner and cocktails, plus Jamesport's own handcrafted beers just blocks from the carferry. Grab a seat on the back deck that overlooks Ludington's beautiful harbor and catch the SS Badger and a beautiful sunset as you dine and drink!
Waterfront Sculpture Park
Location: 200 S William Street - Ludington, Michigan
This 5.3 acre park, located in Ludington's popular harbor, is home to 9 bronze sculptures placed throughout the walkable park. Each sculpture depicts and tells the story of Ludington's rich history. Waterfront Park is also a popular place for families to enjoy the playground and catch the SS Badger returning or departing from Ludington.