Travel Planner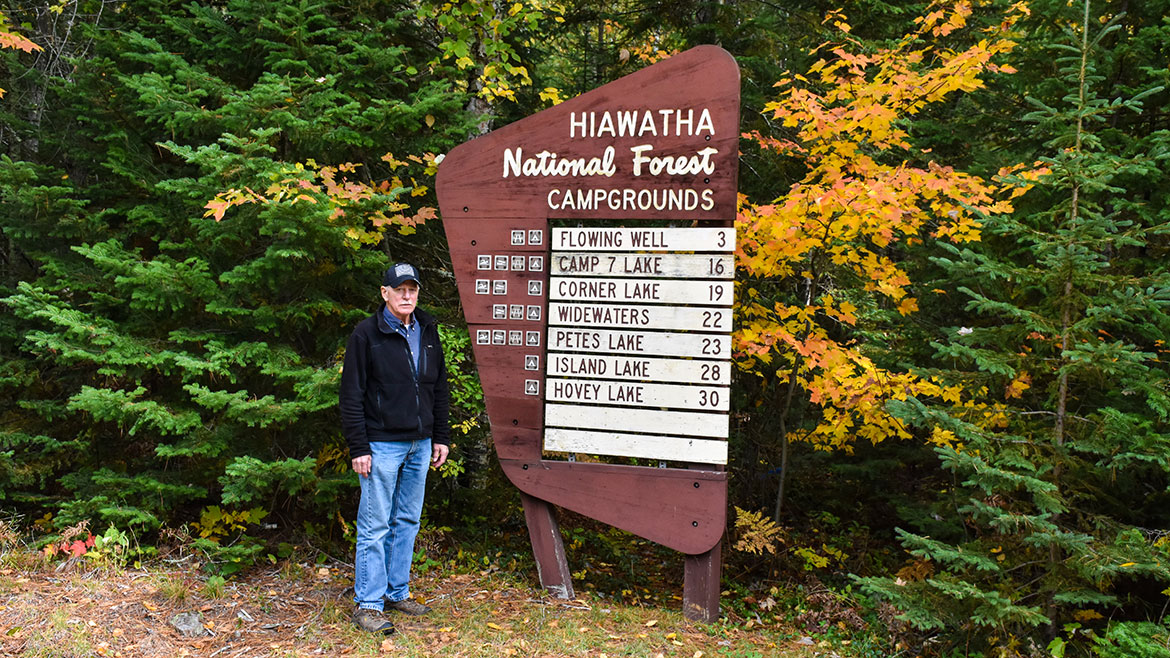 "A Trip Down Federal Forest Highway 13"
Episode #1709 Travel planner
Highway 13 starts at US-2 and travels north through 3 counties in Michigan's Upper Peninsula. It is considered one of the most scenic drives in the country as it goes right through the Hiawatha National Forest.
Camping & Canoeing
Hiawatha National Forest
WIDEWATERS CAMPGROUND
Location: Forest Road 2262 - Hiawatha National Forest | GPS - Latitude 46.21944, Longitude -86.62833
Open: May 15 - September 30
You will find at Widewaters Campground the opportunity to pursue whatever activities you desire whether it be canoeing, fishing, hiking, or just camping in a peaceful, quiet environment.
There are 34 large forested, well-spaced sites affording privacy and seclusion at each camping unit. Approved drinking water pumps and vault toilets are conveniently placed throughout the campground. Tables and grills are at each site. The campground area provides an atmosphere of relaxation. There are benches along the river where one might observe the anglers or do some bird watching, and if lucky catch a lovely sunset.
Widewaters affords boat access at the site to the Indian River, 60 acre Fish Lake and several other lakes close by. Local fish species include Largemouth Bass, Northern Pike, Bluegill, Black Crappie, Brown Bullhead and Brook Trout.
Hiking Bruno's Run Trail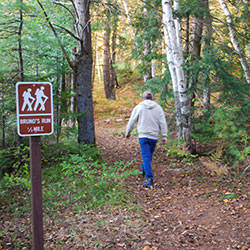 Location: The trail may be accessed from both Widewaters and Pete's Lake campgrounds as well as from Forest Highway 13 at Moccasin Lake and Forest Road 2173 at Grassy Lake. Limited parking is available at each site.
The 9 mile loop Bruno's Run Trail winds its way past a host of small lakes etched in this relatively young glacial plain, taking hikers, bicyclists, snowshoers and skiers over gently rolling country. Further along, the trail runs over foothills, along overlooks and through valleys. The many lakes and streams in the area as well as a variety of trees and other plants make it likely that those traveling the trail will spot wildlife or tracks. If you are alert, you are sure to have an enjoyable outing. Permits are not required for camping along the trail or for campfires. Be careful with fire.
Canoeing the COrner-Straits Chain of Lakes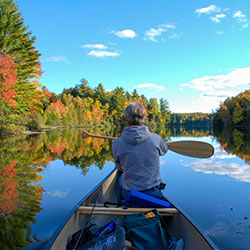 Location: Hiawatha National Forest near the tri-county corner of Delta, Alger and Schoolcraft Counties and just East of Forest Road 13.
The Corner-Straits Chain of Lakes covers 477 acres in the lovely lake country of the Hiawatha National Forest. These are good bass lakes for both large and smallmouth bass, and occasionally large northern pike are taken, as well as bluegills and sunfish. There is no better way to enjoy the clearness of the air, the clarity of the skies and the boldness of the forests than to be canoeing, kayaking or fishing on the larger Straits or Corner Lakes or the number of smaller lakes they connect to.