Travel Planner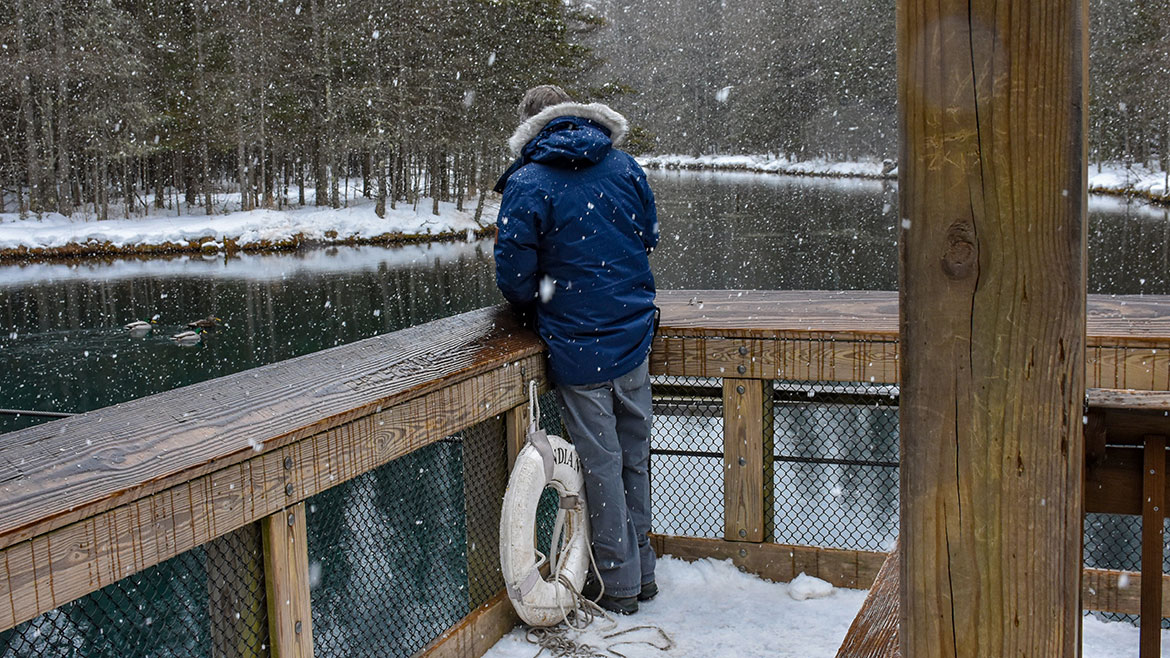 "Lots of Snow"
Episode #2004 Travel Planner
We love the snow and there is always plenty of it in Michigan's Upper Peninsula. We will play in it all, then visit some ice-capped lighthouses.
Indian Lake State Park
Location: 8970 W County Road 442 - Manistique MI, 49854
Phone: (906) 341-2355
Size: 847 Acres
Indian lake State Park is located on Indian Lake, the fourth largest inland lake in the Upper Peninsula with an area of 8,400 acres. It is 6 miles long and 3 miles wide. The lake was once called M'O'Nistique Lake. According to surveyor records dated 1850, Native Americans lived in log cabins near the outlet of the Lake.
Manistique East Breakwater Lighthouse
Location: LAT 45.944786 LONG -86.247654 | Coastline, Manistique, Michigan 49854
Year First Lit: 1916
Automated: 1969
The Manistique East Breakwater Light is a lighthouse is located in the harbor of Manistique, Michigan. It was listed on the National Register of Historic Places in 2005. The Manistique East Breakwater Light is a square-plan tower approximately 38 feet tall on a cast concrete foundation. The tower is made of prefabricated steel plates bolted together and lagged to the foundation. It is surmounted by a square gallery with a decagonal cast iron lantern which contains an electrically powered fixed red Fourth Order Fresnel lens.
Kitch-iti-kipi (The Big Spring)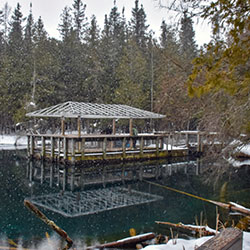 Location: Location: LAT 46.004772000000003 LONG -86.385047 at the northern terminus of state highway M-149, Manistique, MI 49854
Approximate Size: 388 Acres
Phone: (906) 341-2355
Palms Book State Park is a rewarding side trip for the vacationer touring the Upper Peninsula, for here can be seen one of Michigan's alluring natural attractions -- Kitch-iti-kipi, The Big Spring. Two hundred feet across, the 40-foot deep Kitch-iti-kipi is Michigan's largest freshwater spring. Over 10,000 gallons a minute gush from fissures in the underlying limestone. The flow continues throughout the year at a constant 45 degree Fahrenheit. By means of a self-operated observation raft, visitors are guided to vantage points overlooking fascinating underwater features and fantasies. Ancient tree trunks, lime-encrusted branches and fat trout appear suspended in nothingness as they slip through crystal waters far below. Clouds of sand kept in constant motion by gushing waters create ever-changing shapes and forms, a challenge to the imagination of young and old alike.
Snowshoeing the Hiawatha National Forest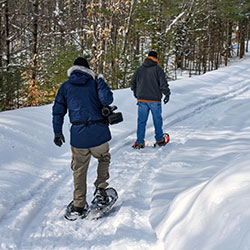 Location: Upper Peninsula, Michigan

WIDEWATERS CAMPGROUND
Location: Forest Road 2262 - Hiawatha National Forest | GPS - Latitude 46.21944, Longitude -86.62833
Open: May 15 - September 30
Located in the central and eastern Upper Peninsula of Michigan the Forest encompasses approximately 880,000 acres and receives 1.5 million recreational visits per year. The Forest affords visitors access to white sand, scenic beaches and relatively undeveloped shorelines. The West Unit is located in the central of the Upper Peninsula, bordering two of the Great Lakes - Lake Superior and Lake Michigan. The western portion of the Hiawatha extends from the towns of Rapid River and Manistique, along Lake Michigan, to the town of Munising on the Lake Superior shore. Whether you're a beginner or an expert, a traditional skier, skater, or enjoy snow shoeing, exciting ski trails await you on the Hiawatha National Forest.
You will find at Widewaters Campground the opportunity to pursue whatever activities you desire whether it be canoeing, fishing, hiking, or just camping in a peaceful, quiet environment.
Manistique Boardwalk & Riverwalk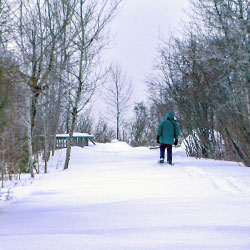 Location: along Lake Michigan | Manistique, Michigan 49854
The Manistique Boardwalk and River Walk extends 1.83 miles from the eastern city limits passing under the US-2 Bridge into the downtown district. The Boardwalk offers its users a fishing pier, access to the east breakwater light, picnic grounds, and abundant nature and wildlife to enjoy. The Boardwalk runs down the Lake Michigan shore in the town of Manistique. Go for an early morning walk or take an afternoon and picnic in the park. You can view the Manistique Lighthouse or ships passing by. It is a wonderfull way to spend a day.