Travel Planner
"Cadillac - Not the Car, The Town"
Episode #2005 Travel Planner
We didn't know that you could kayak, canoe, fish, and mushroom hunt in Cadillac. So, we did. Oh, and we also visited some of their watering holes. Great Time!
Fishing Lake Mitchell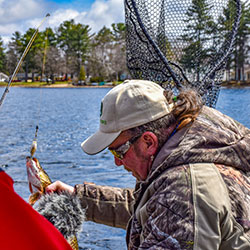 Location: Lake Mitchell - Cadillac, Michigan

C.A.R.M.A. Sport Fishing Charter Service
Phone: (785) 221-9679
Lakes Cadillac and Mitchell have large populations of walleye, northern pike, crappie, bluegills, perch, largemouth, and smallmouth bass. The two lakes are connected by a canal built during the long and interesting northern Michigan logging era. The canal was originally built so lumbermen could float timber from the shores of Lake Mitchell to waiting sawmills on Lake Cadillac. Today the canal serves as a convenient link between two of Michigan's most popular fishing lakes. Lake Mitchell is connected to Lake Cadillac via a canal constructed in the late 1880s. It is the largest of the area's three major lakes at 2,580 acres. The lake is a prime all-sports lake in the area with an average depth of 8.5 feet. Over 95% of the lake is less than 15 feet deep. There are many access points to the lake, with the Mitchell State Park being the primary. There are two hotels and one restaurant available on the shores of Lake Mitchell plus one convenient store.
Carl T. Johnson Hunting & Fishing Center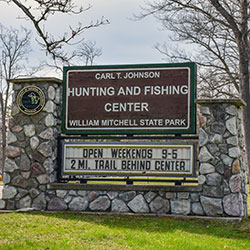 Location: 6087 E M-115, Cadillac, MI 49601
Phone: (231) 779-1321
Hours: Memorial Day - Labor Day: 10:00am - 4:30pm | Labor Day - Memorial Day: Sat. and Sun. 10:00am - 4:30pm | Closed on state holidays
The Carl T. Johnson Hunting and Fishing Center, at the popular Mitchell State Park in Cadillac, offers a range of programs for all ages. Visitors are greeted by a 500 gallon aquarium showcasing the fish of Lake Mitchell and Lake Cadillac. The fishing exhibit hall also has a 200 gallon aquarium featuring arctic grayling which are part of a reintroduction effort. The grounds includes both archery and pellet gun ranges and offers scheduled shooting programs throughout the summer. The center offers group tours and guided hikes which explore the 2.5-mile Heritage Nature Trail leading through the woodland and Heritage Marsh.
The hunt and fish center is also the home base of the DNR's Outdoors Skills Academy. The OSA offers expert instruction, gear and hands-on learning for a range of outdoor activities, from hunting and fishing to hiking, birding and much more. Classes explore each topic in-depth, for a full day or more, with knowledgeable and skilled instructors leading the way. Participants will receive a certificate of completion for each class, with special recognition for Outdoor Skills Academy "graduates" who complete multiple classes.
Pine River Float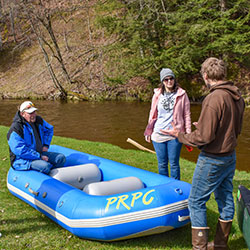 PINE RIVER PADDLESPORTS CENTER
Location: 9590 M-37 - Wellston, MI 49689
Phone: (231) 862-3471
Located in the heart of Michigan's Manistee National Forest, Pine River Paddlesports Center is where family fun begins. We're up North but close by! Quite simply, Michigan's Pine River is a paddler's paradise. Paddlers agree that the Pine River is the premier paddlesports river in the Midwest.Nestled in a deep river valley and flowing predominantly through the Manistee National Forest, the Pine River beckons canoers, kayakers, and rafters from across the nation to experience its unspoiled beauty. Come experience the magnificent forested riverscape, pure spring water, wildlife viewing opportunities, and that wonderful waltz with craft and current experienced on the Pine River. Don't say we didn't warn you, paddling the Pine River can be a tough habit to kick.
Coyote Crossing Resort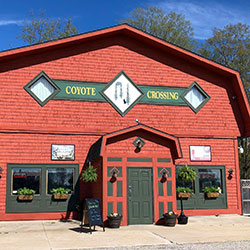 Location: 8593 S. 13 Road - Cadillac, Michigan 49601
Phone: (231) 862-3212
Come enjoy the beauty of Northern Michigan with a relaxing and memorable getaway and hang out in our "north woods" bar & restaurant! Located just 12 miles west of Cadillac, Michigan. Nestled on 50 acres and surrounded by the Manistee National Forest, we're approximately 3 miles south of Caberfae Ski & Golf Resort. We are a year-round destination with unlimited area activities and our resort has direct access to over 300 miles of extensive groomed snowmobile trails!
Cadillac Social District / Cadillac Commons
Location: between Mitchell Street and Lake Cadillac waterfront - downtown Cadillac, Michigan
Social District Hours: 10am - 12am Sunday through Saturday
Explore the streets of downtown Cadillac and the Lake Cadillac waterfront. Currently there are six participating businesses where you can grab a drink and wander throughout the social zone. Grab your friends, meet some new ones, and try some of the latest craft concoctions in the heart of Downtown. Patrons of participating restaurants and bars within this district may purchase, carry, and consume an open alcoholic beverage in an approved plastic container (up to 16 oz. in size) with official Cadillac Social District logo and logo of the business where the beverage was purchased. Only beer, wine, and mixed cocktails are permitted – no shots.
A true gem of the downtown, the City Park has been an integral part of our community for several generations. Home of the Shay Locomotive, a permanent display of Cadillac's rich logging history, and also our beautiful memorial water fountain. You will find our largest community festivals and events happening in this space overlooking Lake Cadillac which is also great for a summer picnic or a scenic walk in any season.
Mushroom Hunting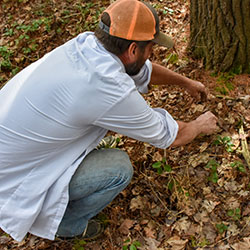 Location: Manistee National Forest | west of Cadillac, Michigan
Morel Mushrooms may be the best known wild mushrooms in Michigan and are hunted by hundreds of thousands of people. They are delicious, easy to correctly identify, find, and generally safe to eat. The fruiting period of morel mushrooms is from late April until mid-June, but the best hunting is in May. A warm, moist spring is best for morel. The Manistee National Forest and state land around Cadillac is a popular hunting ground; morels can be found throughout.