Travel Planner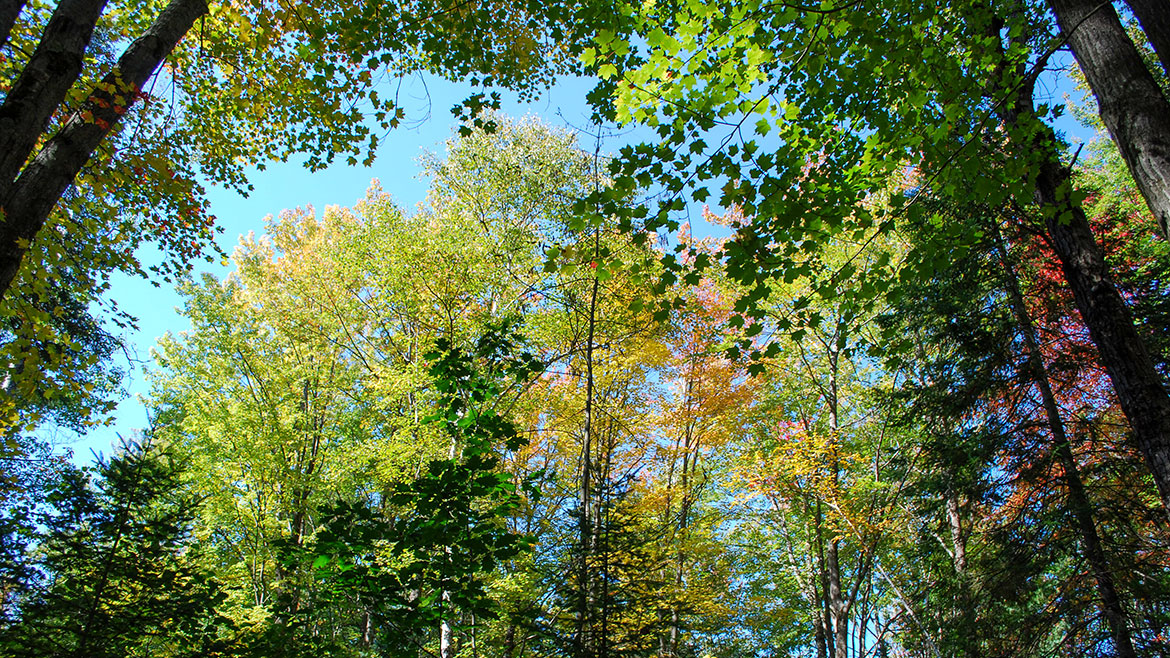 "Finest Trails on the Sunrise Coast"
Episode #2007 Travel Planner
Michigan's Sunrise Coast has some of the best hiking trails in the state and they are very lightly used. Most hikers don't even know about these. Learn some new places to hike on this week's show.
Negwegon State Park
Location: About 35 Miles North of Oscoda via US-23
Contact: Harrisville State Park (989) 724-5126
Hours: Open year round
Negwegon State Park is a rustic, undeveloped area open for hunting, walk-in camping and hiking. The terrain is a mixture of low land areas, with small ridges, to mature pine forest, with some hardwoods and aspen forest, with some pockets of open meadows mixed in. Negwegon hosts a beautiful undeveloped sandy beach on Lake Huron. Please use caution when visiting Negwegon as the roads into the park are often so sandy that a four-wheel drive vehicle is needed. Motorized vehicles are not allowed on the trails or off-road.
Hoist Lake Foot Travel Area
Location: Latitude: 44.655249, Longitude: -83.837975
Hoist Lake foot travel area encompasses almost 10,000 acres of pine, aspen and hardwood forest. There are 19 miles of looped trail. Hiking trails and back-country skiing are permitted; however, there are no groomed trails. Hiking ranges from moderate to more difficult/most difficult. Hunting and fishing are permitted in season.
Highbanks Trail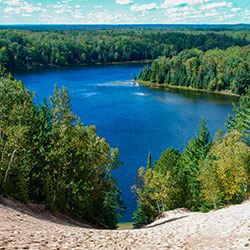 Location: 7 Mile trail located along the AuSable River. Latitude 44.627315, Longitude -84.512476
Hours: Open year round.
The Highbanks Trail System is a scenic back-country linear trail system with views of the AuSable River Valley. From the high bluffs of the south shore of the AuSable River, many species of plants, animals and songbrids may be viewed in their natural setting. The trail system offers excellent opportunities to experience and enjoy nature.
Iargo Springs
Location: Iargo Springs Interpretive Site (GPS 44.44133, -83.67587)
Hours: Open year round
Contact: Huron Shores Ranger Station (989) 739-0728
Located on the River Road Scenic Byway, this site, considered a holy place by native Americans, offers a breathtaking view of the AuSable River Valley from a 30' high observation deck. For the adventurous, walk down 294 steps and enter a mystical place where underground springs come together and form cold water streams. Walk along the elevated boardwalk and enjoy the serenity.
Lumberman's Monument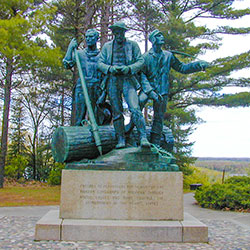 Location: 5401 Monument Road - Oscoda, MI (44.43592, -83.62381)
Hours: Grounds open year-round. Visitor Center open May to October daily, including weekends, from 10am to 5pm.
Contact: Lumberman's Monument Visitor Center (989) 362-8961
Lumberman's Monument Visitor Center interprets the area's colorful lumbering past. The 14-foot Lumberman's Monument stands on a high bank with the Au Sable River providing a scenic backdrop. Learn about the industry that helped develop northern Michigan and the men who cut the timber that helped build a nation. Climb through a log jam, use a peavey, cut a wooden cookie with a cross-cut saw, and learn about the life of a lumberjack through video and displays. Hike the stairway down to the wanigan, a loggers floating kitchen, or take the short trail to the dune observation deck. Enjoy a Kid's Day program or take a guided nature hike.