Travel Planner
"Autumn in the Wilderness"
Episode #2012 Travel Planner
Starting in the village of Nahma along Lake Michigan, then heading north to hike Bruno's Run and ending up with a search for Mulligan Falls - this trip is the perfect fall Great Getaway.
Mulligan Falls
Location: Mulligan Creek, Marquette County, Michigan (46.68463, -87.82494)
Mulligan Creek flows down from some highland swamps to the north end of Mulligan Plains over a long chain of small drops nestled in a dramatic, overgrown canyon. There are at least three sets here, each one containing multiple chutes and plunges and ending in a deep pool, surrounded by hard rock outcroppings. Tall cedars and pines surround the falls and create an incredibly scenic area.
Bruno's Run Trail
Location: The trail may be accessed from both Widewaters and Pete's Lake campgrounds as well as from Forest Highway 13 at Moccasin Lake and Forest Road 2173 at Grassy Lake. Limited parking is available at each site.
The 9 mile loop Bruno's Run Trail winds its way past a host of small lakes etched in this relatively young glacial plain, taking hikers, bicyclists, snowshoers and skiers over gently rolling country. Further along, the trail runs over foothills, along overlooks and through valleys. The many lakes and streams in the area as well as a variety of trees and other plants make it likely that those traveling the trail will spot wildlife or tracks. If you are alert, you are sure to have an enjoyable outing. Permits are not required for camping along the trail or for campfires. Be careful with fire.
Nahma
Location: Delta County, Michigan

NAHMA INN
Location: 13747 Main Street - Nahma, MI 49864
Phone: (906) 644-2486
Nahma Township is located within the Hiawatha National Forest. Much of the area now owned by the US Forest Service was at one time owned by the Bay de Nocquet (lumber) Company. The 75,000 acres of National Forest is an excellent place to hunt, hike, bike, snowmobile, take a dog sled ride, or just observe the beautiful Upper Peninsula at its best. There is 14 miles of Big Bay de Noc Lake frontage in Nahma Township.
Open year-round, the Nahma Inn is a great place for those looking to unwind and relax in the quaint town of Nahma, MI. Constructed in 1909, the Inn features 14 guest bedrooms with one of them said to be haunted by the spirit of Nell. Dare to stay in Nell's room? For those looking to enjoy a delicious meal and/or a cold drink, then the Nahma Inn is the perfect spot. On the same property as the Historic Nahma General Store featured on the History Channel's hit TV show American Pickers.
Nahma Marsh Trail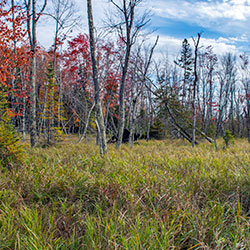 Location: Country Road 497, Hiawatha National Forest, north of Nahma, Michigan
This 0.3 mile linear trail once crept under a dense cedar forest, but a windstorm in 1997 leveled the trees leaving hikers today with broad vistas of the marsh. This hard surfaced fully accessible trail ends at a two-tiered viewing platform where an assortment of wetland wildlife can be seen. This trail will soon regain it natural appearance as the forest heals from the effects of the wind storm.
Haywire Grade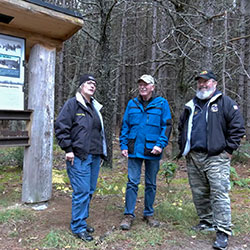 Location: 33 Miles between Manistique and Shingleton, Michigan
Opened in 1970, the Haywire Trail was the first rail-trail in Michigan; it follows the former Manistique and Lake Superior Railroad. The multi-use pathway is primarily used by ATV riders in summer and snowmobilers in winter. The trail is also open to mountain biking, hiking and horse riding.
The trail runs from M-94 south of Shingleton to the Water Intake Plant in Manistique on a surface of gravel, dirt and sand. It also includes ballast from the old rail bed upon which it runs, making travel difficult for bikes and horses in some spots.