Travel Planner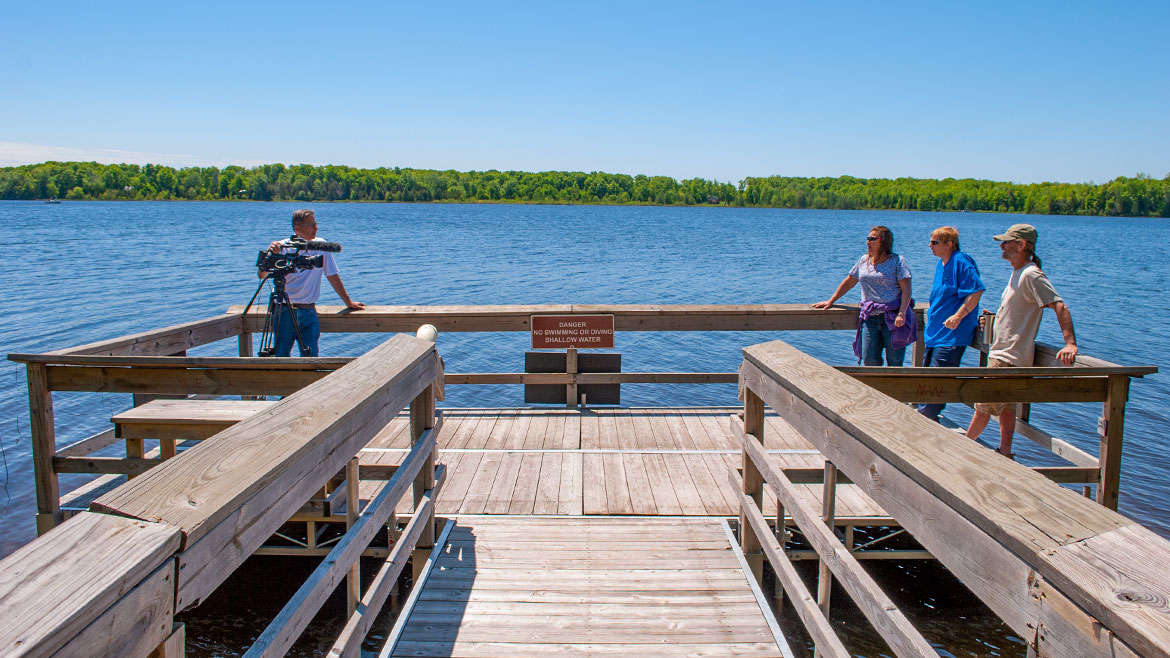 "It Won't Hurt Us To Go To Curtis"
Episode #1204 Travel planner
Curtis is a place in the U.P. that most people have never been to and don't know much about, so to quote an old friend, "It won't hurt us to go Curtis." We visit three large, nearby lakes with the same name - Big Manistique, Little Manistique, and North Manistique. We will enjoy fishing, hiking and friends galore.
Curtis, Michigan
Location: between Manistique Lake and South Manistique Lake in Michigan's Upper Peninsula
Welcome to beautiful Curtis, Michigan and the Manistique Lakes Area - "A Unique Waterfront Village" located in Michigan's beautiful Upper Peninsula. Curtis is surrounded by the three beautiful Manistique Lakes which comprise the largest lake complex in the Upper Peninsula. Visitors find relaxation and excitement when visiting this year-round community. Curtis also provides residents and visitors alike with a huge array of events. Manistique Lakes Area is really the place to be.
Mick's Bait Shop
Location: W17351 Main Street, Curtis, MI 49820
Hours: Mon-Fri 7am - 7pm | Sat-Sun 7am-6pm
Phone: (906) 586-6040
Mick's Bait Shop is conveniently located at the west end of downtown Curtis, MI. They are your Upper Peninsula source for live bait, fishing tackle, sporting goods, rods, reels, planer boards, bobbers, life jackets, along with a host of other great items including custom rods and our very own custom line of tackle, Made by Mick, "Hooked on Crawlers". Owners Mick and Dave have been avid fishermen and hunters all of their lives and they look forward to seeing you at their Upper Peninsula bait and tackle shop.
Fishing The Manistique Lakes
Location: South Manistique Lake and Big Manistque Lake have several Public launches
The Manistique Lakes are abundant with many species of fish such as walleye, northern pike, musky, perch, whitefish, and more. Year round fishing you will find in the Manistique Lakes area along with the hospitality of the Curtis area and its residents. There are many public access sights on all three lake for easy in and out boating ease.
South Manistique Lake
The South Manistique Lake has a lot to offer fishermen. South Manistique lake has walleye, croppies, perch, bluegill, bass, bull head, cat fish, pike and musky, along with some suckers in the spring. The average depth is 15' to 18' with a total range from 4' to 18'. Fishermen like this lake because it is small enough to feel confident to catch some great fish. There are a lot of great resorts around this lake.
Big Manistique Lake
This is the largest of all the Manistique Lakes. Fishermen catch walleye, bass, pike, perch, an occassional bluegill and suckers in the spring. Big Manistique Lake tends to bring in the bigger fish and draws a lot of fishermen to the area - especially sports fishermen. Both the Big Manistique Lake and South Manisitque Lake hold annual fishing contests - great family fun for all ages.
Round Lake (North Manistique Lake)
Surprisingly there are some nice fish to be caught out of Round Lake (North Lake). Fishermen can expect walleye, pike, perch, blue gill, bass, along with an occassional lake trout. Round Lake also has the Luce County Park, which makes this lake perfect for the family. Please be advised that Round Lake is VERY deep with some areas reaching 68'.
Manilak Resort
Location: Manilak Road off of Manistique Lakes Road (Hwy 33) - McMillan, MI
Phone: (800) 587-3285 | (906) 586-3285
Luxurious and relaxing, experience the beauty of our famous Big Manistique Lake and Manilak Resort Association. Our resort is only 2 miles north of Curtis, Michigan just off county road H-33. All of our incredible lake front units are set apart from each other for privacy. Our 637ft. of lake frontage offers a large swimming area with a nice clean sandy beach. We have plenty of activities for families and children which include: basketball, volleyball area, horseshoe pits and many other yard games for your enjoyment. Manilak is centrally located to many of the Upper Peninsula's famous attractions.
Erickson Center For The Arts
Location: just west of of downtown Curtis at Saw-Wa-Quato & Main Street
The Erickson Center for the Arts, formerly known as the Curtis Community Arts Council, is a Michigan nonprofit organization dedicated to enriching the mind, body and spirit of individuals of all ages by providing educational, cultural and physical activity opportunities in Curtis, Michigan. Along with an incredible new building, the Erickson Center, the property also provides a park, band shelter, large landscaped grounds, walking trails and the Helen Newberry Joy Hospital Wellness Center. The Waterfront Gallery & Gifts is now open and features numerous artists from the area. Many pieces of their art are on display and available for purchase.
Pine Bluff Resort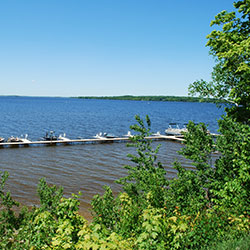 Location: N 10140 CR 135 (Hwy 33), McMillan, MI 49853
Phone: (906) 586-6950
Pine Bluff Resort is the The UP's Premier Four Season Resort. We boast a beautiful resort, featuring 30 fully furnished cabins. Pine Bluff is located in the heart of Michigan's Upper Peninsula, approximately four miles north of Curtis, and sixty-five miles northwest of Mackinac Bridge, nestled up against the Big Manistique Lake. We are the perfect setting for your next group getaway. Our peaceful surroundings come with the modern conveniences to make your trip comfortable and fun. Our Amenities Include: Outdoor pools, Indoor pool & Hot tub, Linens and cookware in cabins, Campfire pit by each cabin, Restaurant with bar on site, Wireless internet and satellite TV, Boat & boat slips, pontoon, snowmobile, and ATV rentals, Sandy beach, jungle gyms, and ball courts. Open year round.
Kim's Tally Ho!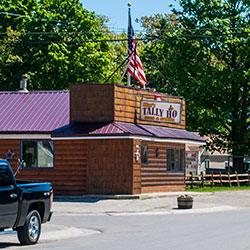 Location: W 17298 Main Street, Curtis, MI 49820
Phone: (906) 586-3476
Hours: 11am - 2:30am daily
Kim's Tally Ho! is located in the heart of Curtis, Michigan. Daily Food and Drink Specials, including homemade soups and chili.
Chamberlin's Ole Forest Inn
Location: N9450 Manistique Lakes Road (Hwy 33), Curtis, MI 49820
Phone: (906) 586-6000 | (800) 292-0440
Dining Hours: 1pm - 9:30pm daily
Welcome to Chamberlin's Ole Forest Inn, nestled high on a bluff overlooking Big Manistique Lake in Michigan's Upper Peninsula. This incredible lakeside country inn offers charming accommodations, casual fine dining, bub, events and entertainment. Step inside this premier Lakeside Country Inn and enjoy the warmth of the ten-foot stone fireplace. Wander up the beautiful open stairway to where eleven distinctive guest rooms await you. Each room is uniquely decorated in turn of the century decor with warm chenille spreads, country quilts, gracious antiques, beautiful photos, prints and comfy throw rugs under foot. Relax and settle right into comfort. Chamberlin's Ole Forest Inn also offers a variety of tasty fare, classic cuisine, cocktails and specialty drinks. Come and enjoy dinner by the fireside in our Lakeview Dining Room; our Forest Room is the perfect place for groups to gather whether for a private dinner party or quiet meeting area. The Pub's libations, sports and tales are tops, and warm weather can best be enjoyed on the Veranda with quaint outdoor seating and breathtaking views.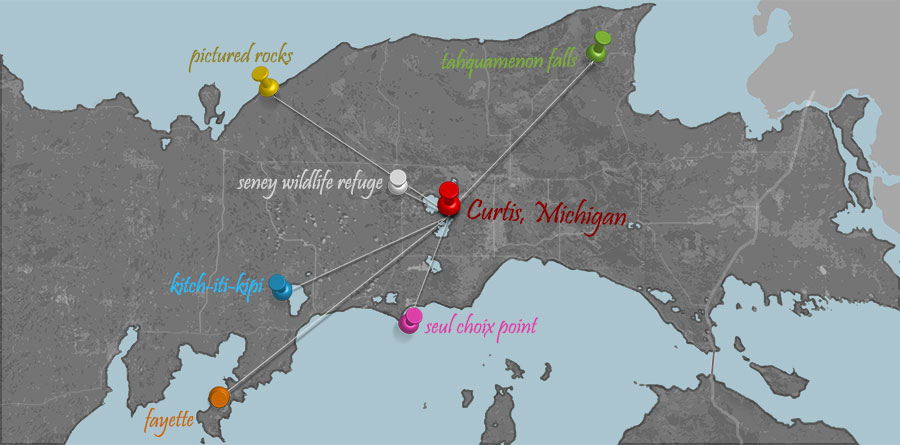 Attractions Near Curtis, Michigan
Seul Choix Point Lighthouse
Location: 672 N West Gulliver Lake Road, Gulliver, MI 49840
Phone: (906) 283-3183
Seul Choix Point Lighthouse (pronounced SIS-SHWA) in nearby Gulliver, Michigan was built to light the way for the increasing number of vessels carrying the iron ore that was being shipped out of Escanaba, MI. Seul Choix Point Lighthouse is now a community park for everyone to enjoy. Built in 1895 this light, whose name is French for "only choice", was once the center of a thriving fishing community in the only harbor of refuge along this stretch of Lake Michigan. Today, the lighthouse complex is the only thing that remains active.
Fayette Historic State Park & Townsite
Location: 4785 II Road, Garden, Michigan 49835
Phone: (906) 644-2603
Fayette was once one of the Upper Peninsula's most productive iron-smelting operations. Located on the Garden Peninsula at Snail Shell Harbor. When the charcoal iron market began to decline, the Jackson Iron Company closed its Fayette smelting operation in 1891. It is now a completly restored village including 22 historic buildings, museum exhibits and the visitor center, which can be toured May through October. The historic site is located in Fayette State Park.
Kitch-iti-kipi (The Big Spring) | Palms Book State Park
Location: LAT 46.004772000000003 LONG -86.385047 at the northern terminus of state highway M-149, Manistique, MI 49854
Approximate Size: 388 Acres
Phone: (906) 341-2355
Palms Book is a rewarding side trip for the vacationer touring the Upper Peninsula, for here can be seen one of Michigan's alluring natural attractions -- Kitch-iti-kipi, The Big Spring. Two hundred feet across, the 40-foot deep Kitch-iti-kipi is Michigan's largest freshwater spring. Over 10,000 gallons a minute gush from fissures in the underlying limestone. The flow continues throughout the year at a constant 45 degree Fahrenheit. By means of a self-operated observation raft, visitors are guided to vantage points overlooking fascinating underwater features and fantasies. Ancient tree trunks, lime-encrusted branches and fat trout appear suspended in nothingness as they slip through crystal waters far below. Clouds of sand kept in constant motion by gushing waters create ever-changing shapes and forms, a challenge to the imagination of young and old alike.
Seney National Wildlife Refuge
Location: 1674 Refuge Entrance Road, Seney, Michigan 49883
Phone: (906) 586-9851
Visitor Center: Open May 15th - October 20th | 9am - 5pm Daily
The refuge Headquarters and Visitor Center are located on Highway M-77 approximately 3 miles north of Germfask, Michigan and 15 miles northwest of Curtis, Michigan. It is one of the best wildlife excursions you can make, it is managed by the U.S. Fish and Wildlife Service. Seney National Wildlife Refuge is located in the east-central portion of Michigan's Upper Peninsula, halfway between Lake Superior and Lake Michigan. The 95,238 acre refuge encompasses the 25,150 acre Seney Wilderness Area, which contains the Strangmoor Bog National Natural Landmark.
Pictured Rocks National Lakeshore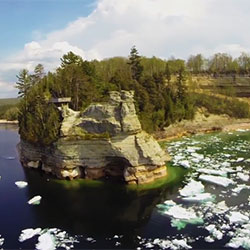 Location: M-28 and H-58, Munising, MI
Phone: (906) 387-3700
Hours: Open year-round, 24 hours a day | Park Headquarters Open Mon-Fri 8am - 4:30pm
Sandstone cliffs, beaches, sand dunes, waterfalls, lakes, forest, and shoreline beckon you to visit Pictured Rocks National Lakeshore. Hiking, camping, sightseeing, and four season outdoor opportunities abound. The lakeshore hugs the Lake Superior shoreline for more than 40 miles. Lake Superior is the largest, deepest, coldest, and most pristine of all the Great Lakes.
Tahquamenon Falls
Location: 41382 W M-123 - Paradise, MI 49768
Phone: (906) 492-3415
Open: Year-Round
Located in Michigan's eastern Upper Peninsula, Tahquamenon Falls State Park offers over 48,000 acres of wilderness to explore, with the mighty Tahquamenon River running through it. Many visitors are drawn to the famous Upper Falls, which at 50 feet tall and 200 feet wide is Michigan's largest waterfall. The Lower Falls, located 4 miles downstream, are equally beautiful with multiple viewing opportunities.