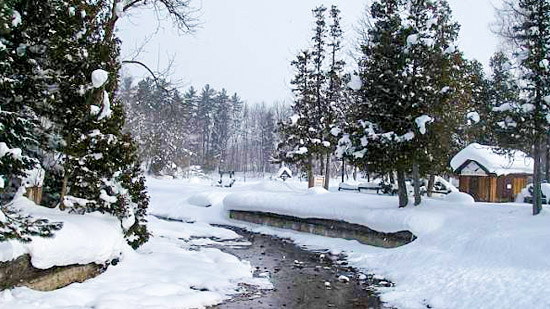 Episode #7723 | week of January 4, 2018
Grey & Bruce Counties, Ontario
"ONTARIO WINTER ADVENTURE"
Here is a Getaway for everyone who loves winter fun. Starting on the snowmobiles we will take a scenic tour of Owen Sound around Georgian Bay. Then it's off to ski the world renowned Blue Mountains with some of the best skiing east of the Rockies.
Episode #7724 | week of January 11, 2018
Upper Peninsula, Michigan
"WILDERNESS SNOWSHOEING"
There is no place like Michigan's Upper Peninsula when it comes to deep snow and lots of it. We will snowshoe deep into the Hiawatha National Forest for some incredible scenery. We won't stop there with the snowshoe adventure. We find an abandoned trail that will give us all that we can handle with the big shoes.
Episode #10024 | week of January 18, 2018
Upper Peninsula, Michigan
"WINTER GETAWAY IN TIME"
We have been traveling through the Upper Peninsula of Michigan in the winter for many years and have had some great times, seen spectacular scenery and witnessed the dramatic beauty that you can only find on the clover peninsula. Join us as we look at the best of winter across the north.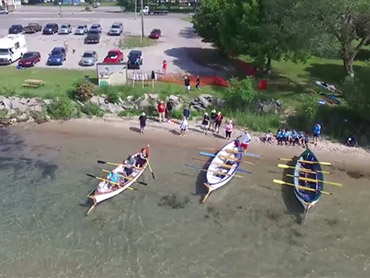 Episode #1501 | week of January 25, 2018
Tawas Bay, Michigan
"ANNUAL HERITAGE COAST SAIL DAYS ON LAKE HURON"
This event includes a Traditional Boat Regatta where handmade rowing and sailing boats compete. If you build it, they will come and that is exactly what they did for this event. Then it's on to celebrate and enjoy good music and good food.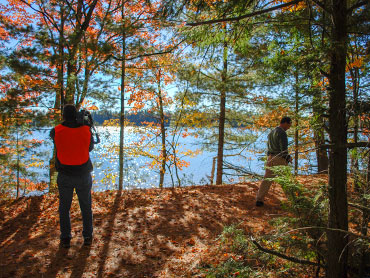 Episode #1502 | week of February 1, 2018
Michigan / Ontario
"OUR FAVORITE HIKING TRAILS"
We picked hiking trails that were scenic, rugged, least known, and most accessible to hikers. Maybe you know of some that you feel are even better? Well watch and let us know your suggestions.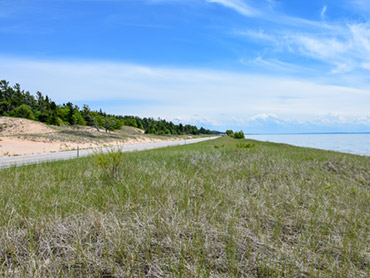 Episode #1503 | week of February 8, 2018
St. Ignace to Manistique, Michigan
"TOP OF THE LAKE SCENIC BYWAY"
Michigan's newest Scenic Byway and maybe its most beautiful starts in St. Ignace and travels west to Thompson all along the top of Lake Michigan.
Episode #1406 | week of February 15, 2018
Baldwin & Ludington, Michigan
"WHERE IS BALDWIN?"
Baldwin Michigan holds many exciting adventures from canoeing the beautiful Pere Marquette River to hiking the incredible Sand Dunes. We will explore the exciting Ludington State Park and climb the circular stairs to the top of the Grand Sable Lighthouse.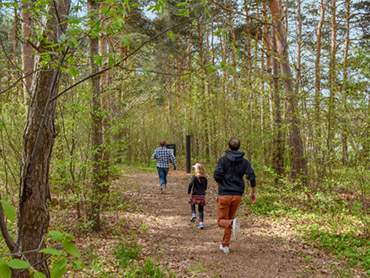 Episode #1504 | week of February 22, 2018
Roscommon County, Michigan
"ROSCOMMON TRAILS"
From ORV Trails where we take the Jeeps off road onto giant, punishing rocks to trails that take us disc golfing and kayaking and trails that take us through an old growth forest, this trip is about Trails of all kinds.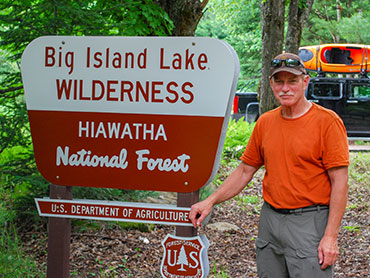 Episode #906 | week of March 1, 2018
Hiawatha National Forest / Manistique, Michigan
"BIG ISLAND CANOE AREA"
Located in the Hiawatha National Forest in Michigan's Upper Peninsula, Big Island Lake Wilderness contains 23 small lakes ranging in size from 5 to 149 acres and the only way to reach each one is to portage in. After time spent in the wild we end our trip at one of the rustic celebrations the U.P. is known for, Folkfest.
Episode #1204 | week of March 8, 2018
Curtis, Michigan
"IT WON'T HURT US TO GO TO CURTIS"
Curtis is a place in the U.P. that most people have never been to and don't know much about, so to quote an old friend, "It won't hurt us to go Curtis." We visit three large, nearby lakes with the same name - Big Manistique, Little Manistique, and North Manistique. We will enjoy fishing, hiking and friends galore.
Episode #1102 | week of March 15, 2018
Great Lakes Bay Region, Michigan
"THE GREAT LAKES BAY WATERWAY"
Our tour starts in the middle of the state in Sanford, Michigan on Sanford Lake to do a little fishing with champion fisherman Brian Darling. From here we take a tour of the Shiawassee Nature preserve and then it's on to the Tittabawassee River to kayak and we continue all the way to Saginaw Bay to join in a sailboat race and fish with nationally acclaimed fisherman Mark Martin. This is a water trail for the whole family. Then we ask our viewers to vote for their favorite boating experience on a new segment called Boating Country.
Episode #1104 | week of March 22, 2018
Lake St. Clair, Michigan
"THE NAUTICAL HEART OF MICHIGAN"
There is a lot of activity in Ogemaw County from biking, car shows, canoeing, history and so much more and we are going to experience a lot of it on today's show.
Episode #1405 | week of March 29, 2018
Ogemaw County, Michigan
"OGEMAW COUNTY TOUR"
With over 430 square miles of fresh water and 160 miles of shoreline to explore you are sure to discover your own personal passions and pleasures on Lake St. Clair. You've no doubt heard the expression, "Life is better with a boat." If that's true, then life just doesn't get any better than boating—on Lake St. Clair.